Matt & Erin have been married for a whole year. Oops. Just getting to their blog post now....
Ok, so MAYBE I had planned on attempting to have this wedding published because I thought the details were SO freaking neat! Martha Stewart to the MAX! So I held the wedding hostage for awhile, ok, quite awhile! So, if you hate it, we can just blame it on the fact I shot it a year ago and am much more advanced now! LOL But, of course, how could you not love it? LOOK at these details!!! Erin was SO creative in everything that she did for this wedding... it blew my mind as soon as I walked up. It was gorgeous.
I remember being so excited just in our consultation when I met with Erin. She had flown in for the weekend from San Diego where she and her Ivy League hubby live. (Erin is a Harvard graduate and her lawyer husband attended Stanford- and every single guest seemed to be a a graduate of either! Very neat!) The wedding took place on the small walnut farm in Winters where Erin grew up and where her parents still live. Only about 10 people attended the ceremony, as Erin and Matt wanted to keep it private and sacred... the masses arrived AFTER the ceremony for the big party, complete with three separate eating and lounge areas under swoopy-topped tents complete with flags! Sooo cute! All of the produce on the tables were locally grown, picked and purchased in Winters. The bags at each place setting, held in place by the walnut were so the guests could fill their bags with fresh fruit to take home. How about that for a original souvenir?
Here is the event in Erin's words:
Wedding vendors: Emily Heizer, Sacramento, CA (photographer); Zephyr Tents, Berkeley, CA (tents, lighting, tables); Big Fun DJ, Bay Area; Classic Party Rentals Sacramento (lounge furniture, chairs, linens); Buckhorn Catering, Winters, CA (tri tip and chicken, served family style); Lulu Paper, Austin, TX (
Save the Date and Invitations); California Organic Flowers, Chico CA (most of the flowers); Farmers Market, Davis CA (some flowers); Triple R Fruit Stand, Winters CA (fresh fruit centerpieces doubling as the favors)
What made our wedding very special was that we chose an old barn in the orchard where Erin grew up - her family has been growing nuts in the little town of Winters , California since 1944. We transformed the old barn into a fantastic party with the help of beautiful tents and lighting, farm tables and lounge furniture, and homegrown fresh fruit centerpieces using Erin's grandmother's wedding china to feature fresh picked (that morning!) apricots and cherries, which doubled as favors with the addition of hand stamped paper bags. The reception was beautiful but what really made our day unique was the private ceremony we had immediately before the reception in the middle of the orchard, surrounded by our immediate family, the best woman, and the maid of honor, under the walnut trees and a hand painted "chapel" sign.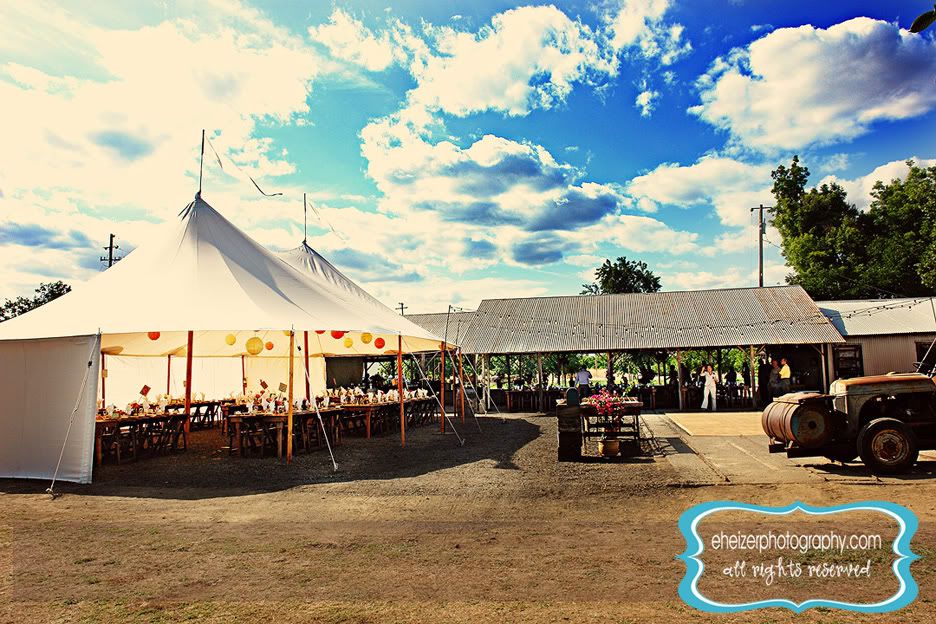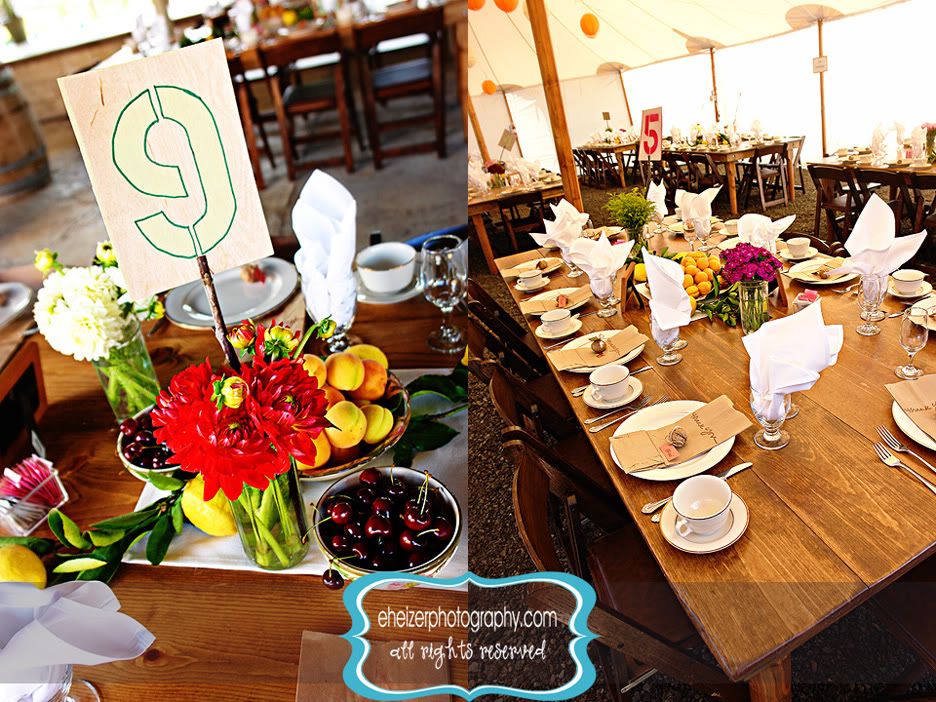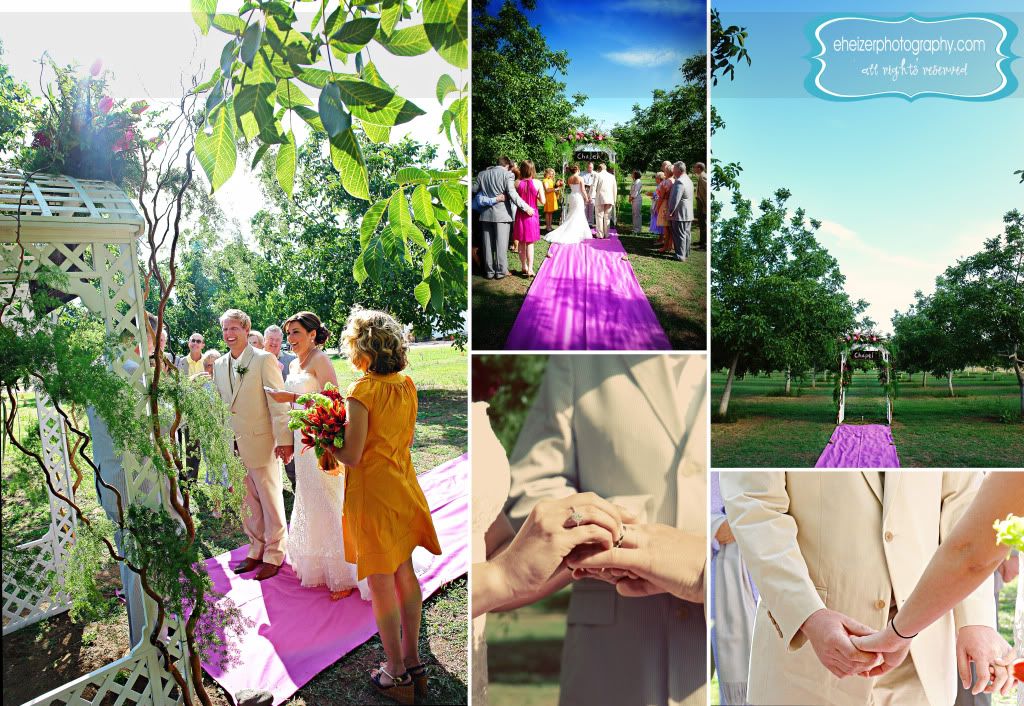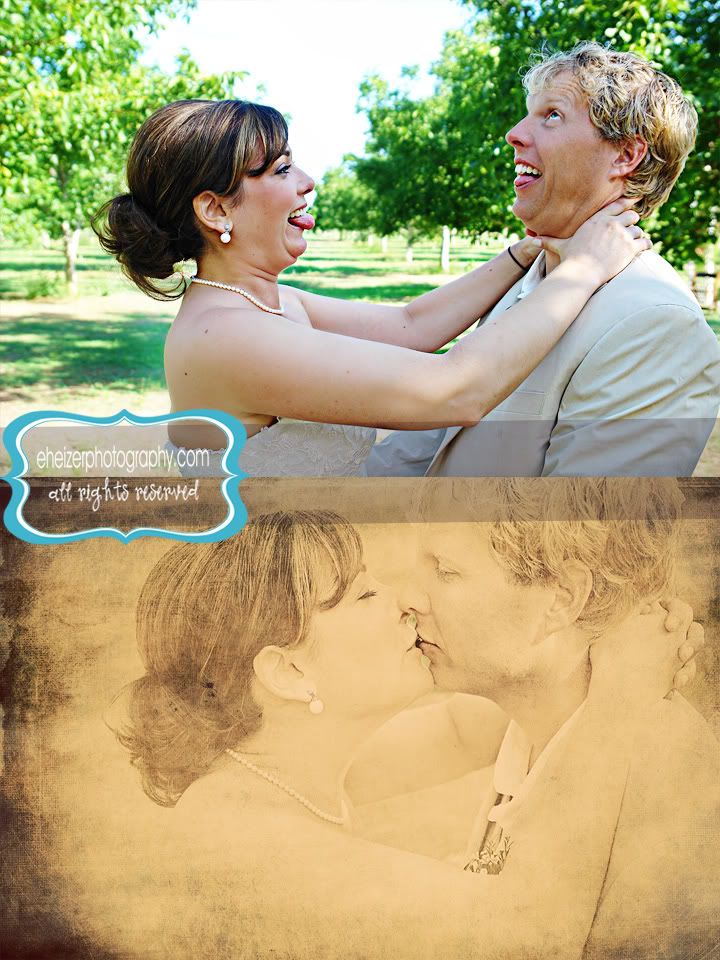 Little last minute touch ups for Matt...