A couple of days ago I posed this very important question:
WHO

is Jax's Dad?
I had high hopes internet, very high hopes... Tisk, tisk. I thought more of you! Your votes were all over the place! I had the ultimate faith in your ability to eyeball paternity tests. For SHAME! We will have to work on this some more and play again some day. Perhaps I made it too difficult by using all of your dashingly handsome husbands as potential candidates? Anyway...
The results... drum roll please....
The internet has spoken, and they have proclaimed, with a solid majority vote,
Potential Father A to be the sire of this strapping young lad!
And that would be WRONG! EHHHHHHHHHHHHHHHNNN! (buzzer noise)
Matt, of
Matt & Courtney
who married in the fall of 2008 at Arden Hills Country Club, isn't even a father yet! NO SOUP FOR YOU!
The second number of votes was TIED for potential fathers B (
Josh & Amanda
) & C (
Josh & Krista
):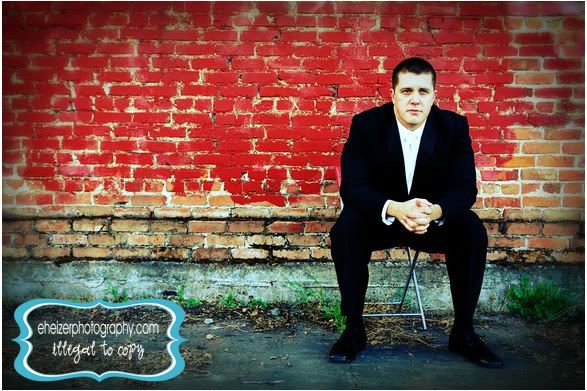 and Potential Fathers D (
Chris & Tadina
) & E (
Pete & Mackenzie
) each received one vote as well!
If you had paid attention, you would have seen Josh's wife Amanda (#B) posted a comment hoping it wasn't his kid because it certainly wasn't HERS! LOL (Josh & Amanda are living in Italy now too, so I would have to go a very long ways to do baby pictures should any bratlings ;) come along, but I am TOTALLY willing. Just putting that out there. :)
Jests aside, there can only be
ONE FATHER
and he is......
POTENTIAL FATHER C!
Joshua, of
Josh & Krista, married in May of 2008
at the Zinfandel Grille in Rocklin (Now closed) and welcomed Jaxton into their family last fall.
The feature I was talking about was Jaxton's EYES! Look at this kid's eyelashes! He is Daddy all over! The first thing I said when I saw Jax was "WOW you look like your Mommy and Daddy!" (Because, yes, I am truly that lame.)
Look at this handsome devil! How could he be anyone but Josh's with those eyelashes! :)
The winners of the eyeball paternity test are CLEARLY April Ingram, Amanda Good and Debbie does Dinner Healthy! Good eye, good eye girls!
Now everyone take a step back and admire this sweet lil baby. :)
Everyone's been gettin' pregnant and havin' babies lately and I gotta tell you, that biological clock of mine is ticking so frickin' loud my ears are ringing! Anyone have an asprin?