Cecilia is one of my closest girlfriends. Not the kind of friend who you see every day, or call up to catch up on every day, regular things, but a special kind of friend. She and I are the kind of friends who are there for each other in crisis. She has been there for me at my worst, lowest moments. At first it was by accident, a medical misdiagnosis six years ago had me sitting in a conference room at the tax firm where we met, shaking with nerves, and when I got the call it had all been a huge mistake, I stumbled out of the room, full of tears and went right into her arms. We have been friends ever since. We learned how to support each other in a way other people didn't. We have always been there for each other when it counted.

On Friday, I got to be there for her on a different kind of day. An overwhelmingly emotional day, but a happy one. She laughingly commented how pretty I looked with make-up; she was too used to seeing it running down my face to know what it looked like in it's proper place. :)

After seeing THIS wedding, Cecilia and Matt

(who also happens to own

Paladin Private Security, the biggest security company here in Sacramento

)

decided to marry in the same place, at the longest pier overlooking the blue waters of Lake Tahoe at Timbercove Marina. Cecilia, knowing me too well, managed to dupe me into being her Maid of Honor and shooting this wedding. (Still not quite sure how she did that, but I am NEVER doing it again! Never, never, never! lol)

The night before the ceremony it was realized that Cecilia and Matt's hand written ceremony had been left back at their home a few hours away, but since I had just so happened to have officiated a ceremony a couple of weeks before for my friends Kim & Jeff's 10 year vow-renewal, I had a whole ceremony already written, and a ton of additional readings and scripts already sitting in the backseat of my car (see, I told you it pays to be a slob) that we were able to adapt to Cecilia & Matt's love for each other and reflect their relationship. I emailed it to the officiant about 10:30pm the night before the wedding and somehow it all came together! I also have to credit my friend Vince Henry, whose wedding I will be shooting next year as well. I put a call into him to do some quick research on ring exchanges and he read me the scripts over the phone and I typed them into the service! It was wild, but turned out perfect.

Originally, Cecilia's parents hadn't been able to come to the wedding, but with Matt's entire family, and Cecilia's extended family there, there was more than enough relatives to make up for their much-missed absence. Cecilia had some special mementos from her family incorporated into her attire to honor and remember them on this big day. What Cecilia didn't know is that her mom had planned to surprise her and arrived at the marina just before the ceremony. I was so overwhelmed when I saw her I just burst into tears and gave her a big hug. We went and found the bride doing some last minute touch ups in the powder room, and her mom gave her a special emerald ring as her "something borrowed." It was super emotional and everyone was so happy!

But the surprises didn't stop there! Before the end of the reception, Cecilia's dad came through the door as well, and Cecilia got to celebrate her wedding day with both parents present. It was a huge surprise and great bonus and made for a great, joyous, exciting end to the reception.

You can see their engagement session at the Folsom Marina HERE.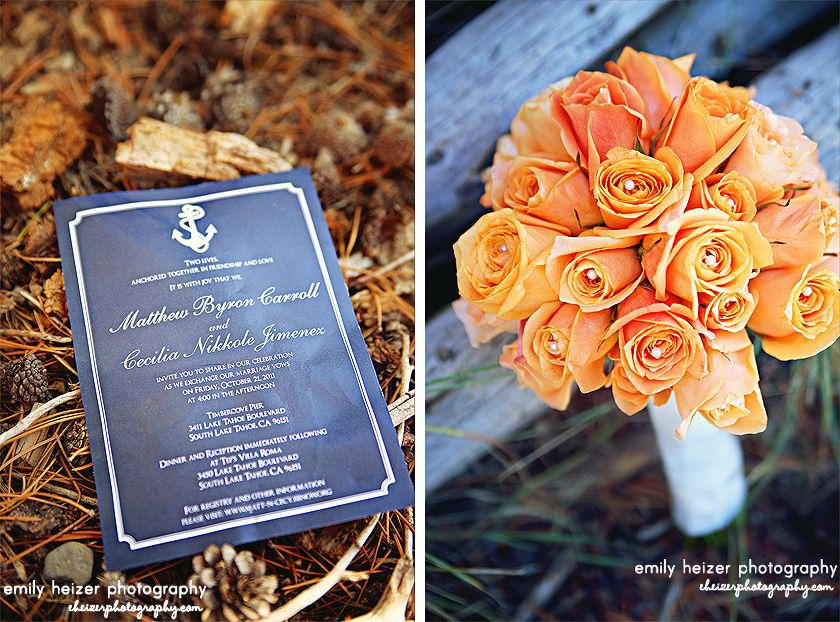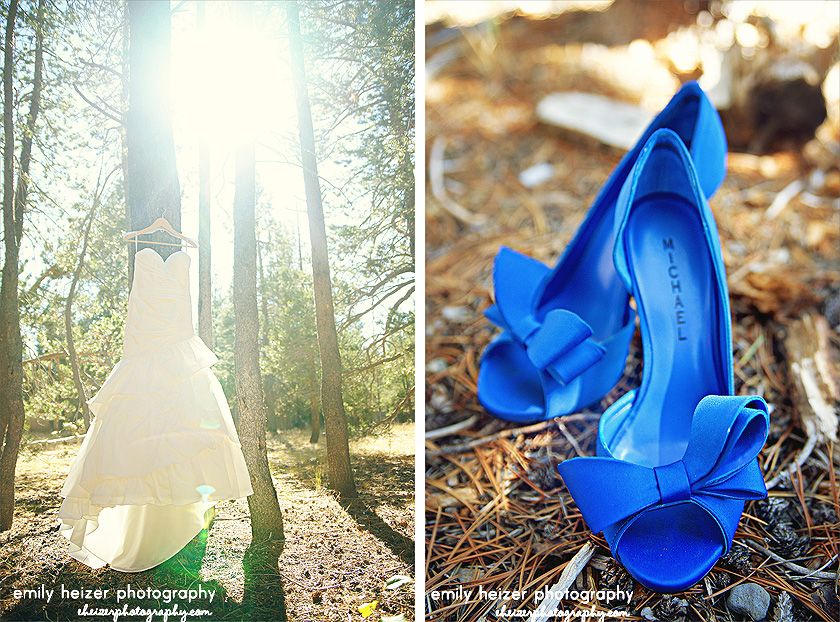 Cecilia wasn't the only one who did some "duping." I sweet talked her into getting dressed in the woods. All brides should do this, don't you think? LOL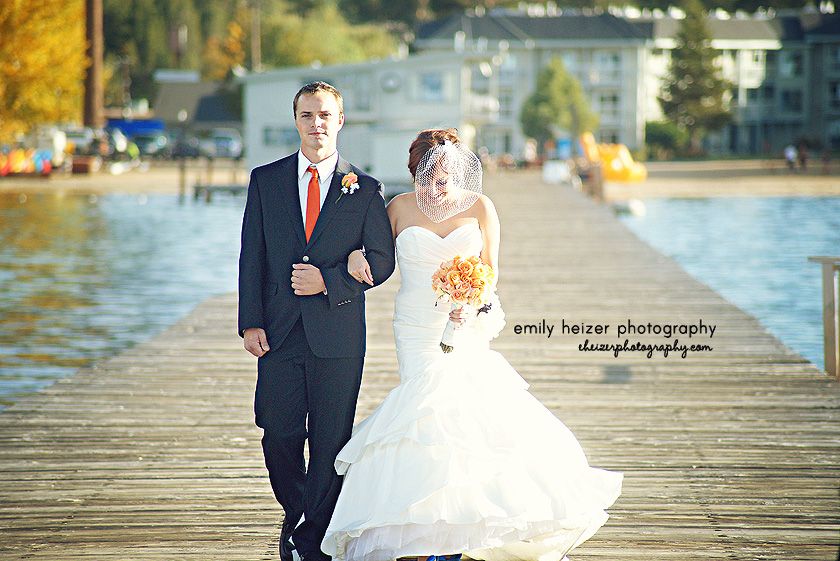 (Disclaimer: Again, I'm not a professional videographer, and I just do these for fun. C & M hired a professional videographer for their wedding day who will be putting together a wedding video for them. These clips were filmed by me during their engagement session.)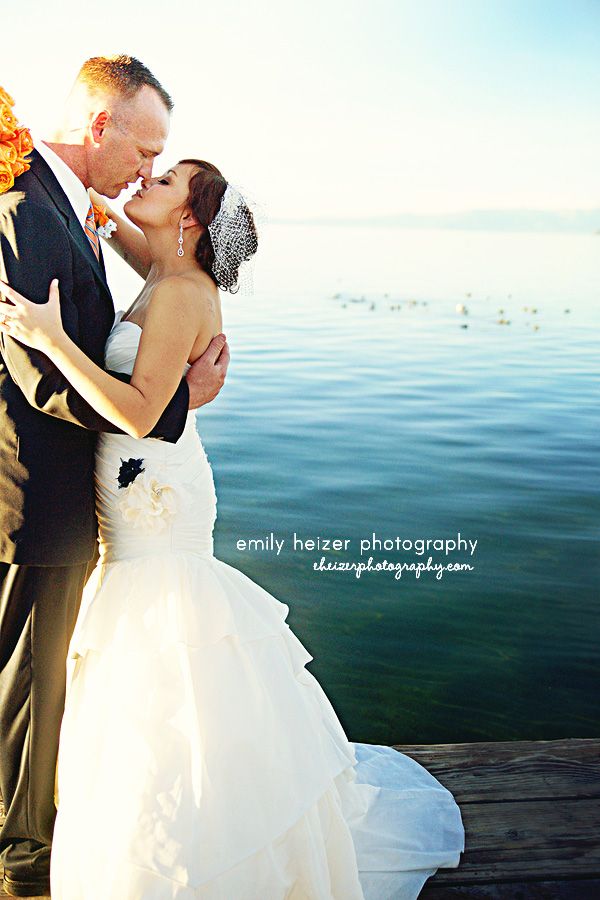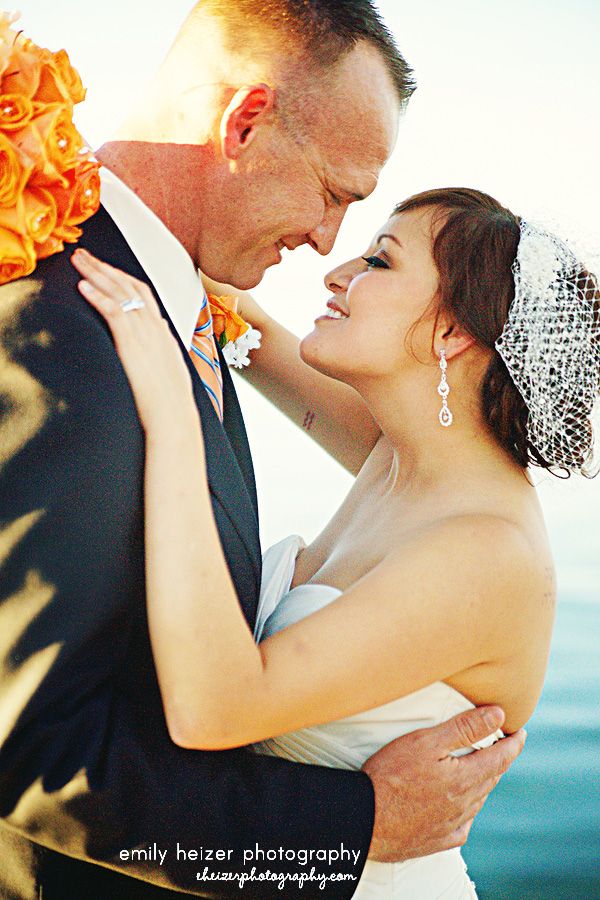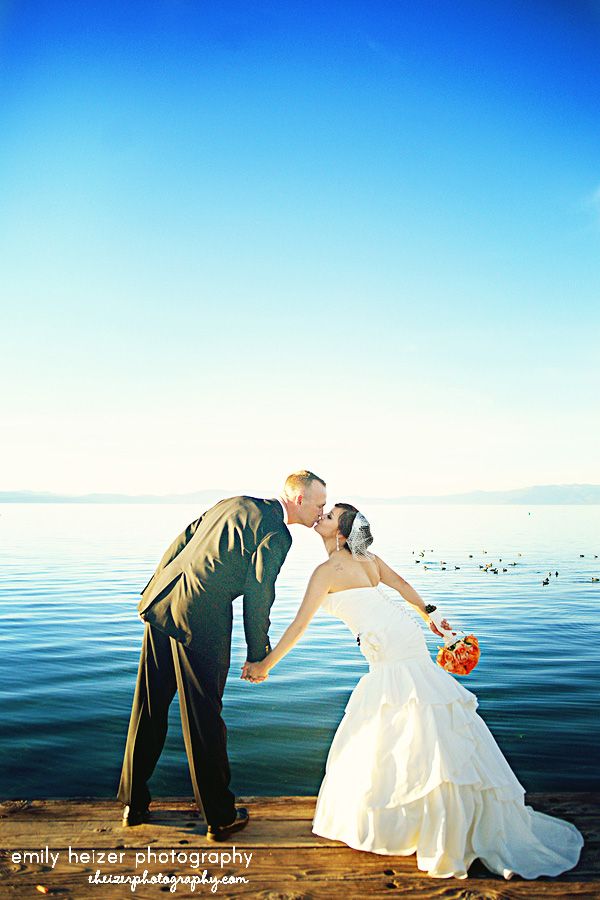 Photography: Emily Heizer Photography
Wedding Film:
Emily Heizer Photography
Venue: Timbercove Pier, South Lake Tahoe
Reception:
Tep's Villa Roma
Florals: Bride's Aunt, Donna Lieb
Bride's Shoes: Michael
Official Videographer (I shot all of the video above, but you can see their
"Love Story" video HERE
by Ed Black):
Imagination Harbor Media Group
Officiant:
Reverend John