Sarah and Jonathan were supposed to get married at
Glacier Point
in
Yosemite National Park
last year, but due to the late winter and weather concerns, the ceremony was moved at the last minute to the Mountain Room at
Yosemite Lodge
instead. I never actually blogged all of the photos a year ago, I posted a fusion film instead, so when Sarah wrote out a beautiful interview about this wedding, I thought it would be great opportunity to share it with you all so you could hear about her experience!
You can watch their wedding fusion film from their post last year, HERE.
Yosemite National Park became a special place for us after we went camping there 1 month after we met, and when my husband proposed on the top of Half Dome. On the hike down it seemed only natural to have the wedding in Yosemite. The advantage of having a destination wedding is that we were able to keep it small and intimate.
Our love of nature inspired us to re-use, recycle and reduce. Being eco-friendly was our unofficial theme that our guests didn't really know about. We made our own programs and place cards from recycled paper and wine corks, our save-the-dates and wedding RSVPs were online, I made half of the favors (a wood burned ornament made out of a slice of birch tree that had fallen at my husband's parents' house) and the other half were reusable jars of locally made jam from the Yosemite gift shop, we won our hand-made tree-free invitations, our wedding rings were made from panned gold (as opposed to mined, which is harmful to the environment) by an artist from etsy, my engagement ring was a recycled antique diamond w/recycled gold, our candles were made from another fallen birch tree, the dinner was all vegetarian, our centerpieces were live orchids, one of which still grows in our kitchen.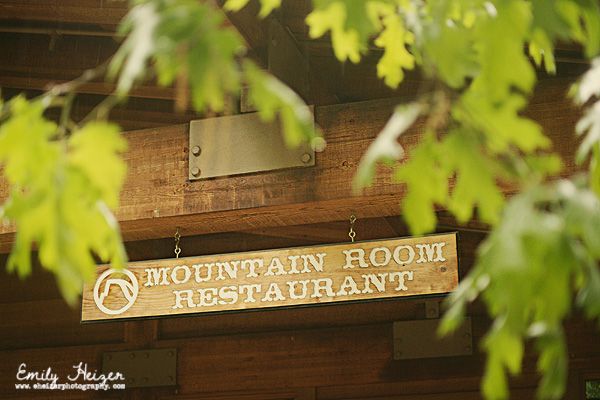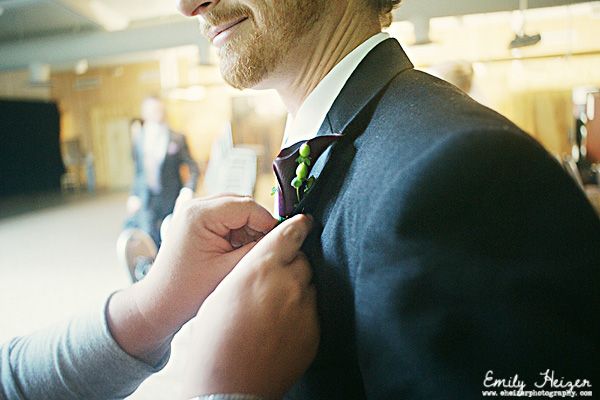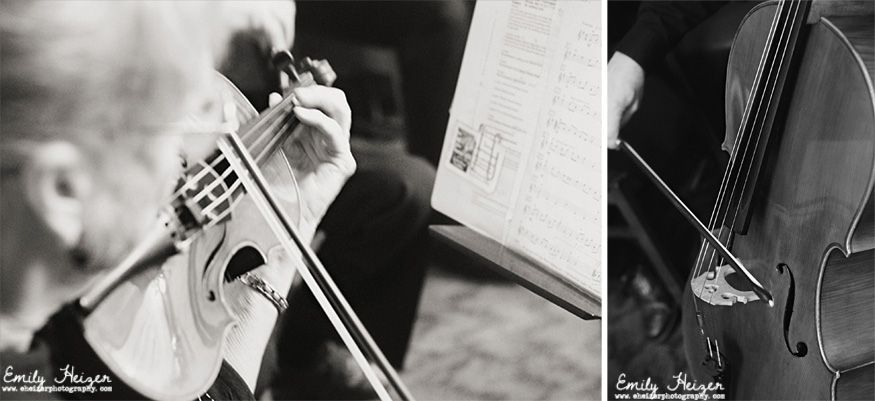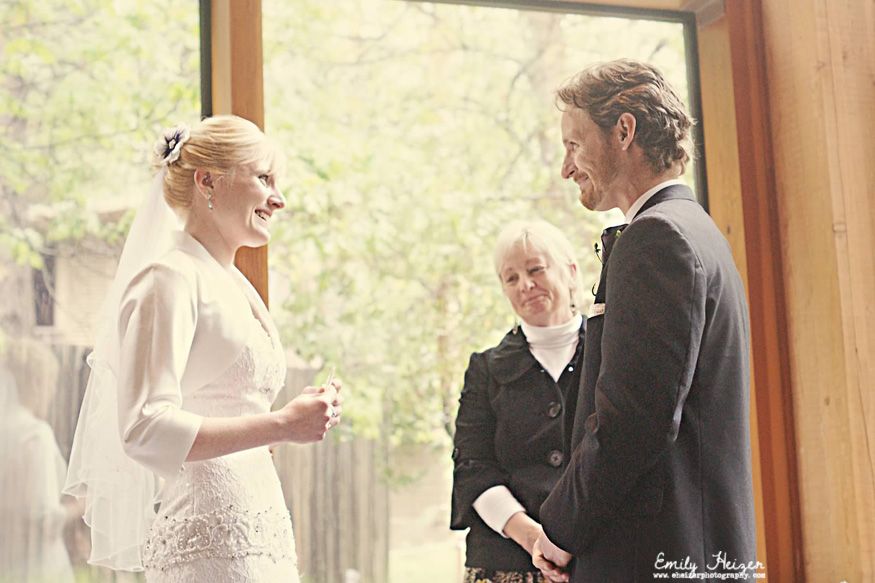 The people in our ceremony were personal friends: the officiant was Jon's former Unitarian minister, his friend sang "Songbird" by Christine McVie, and my friend read an adapted version of the song "Wedding Song" by Bob Dylan. We also had a rose ceremony for the three mothers, and a hand fasting ceremony. We tried to make the ceremony different and very personal.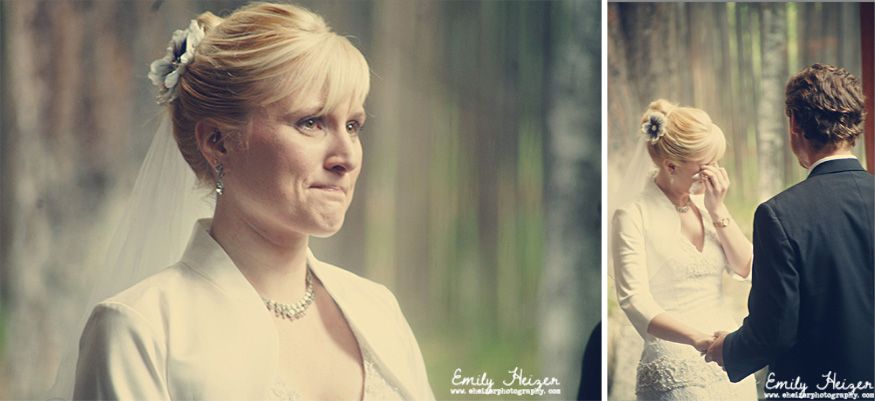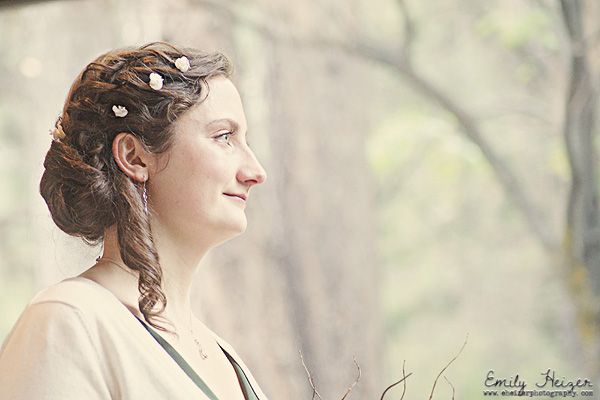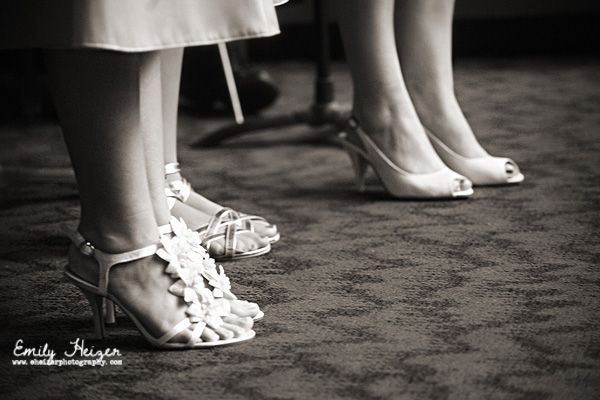 Our "father-daughter dance" was really an all-parent dance to the ukulele version of "Over the Rainbow." Jon's parents were divorced and remarried so I danced with the dads while he danced with all the moms so that we included everybody, and it was really fun!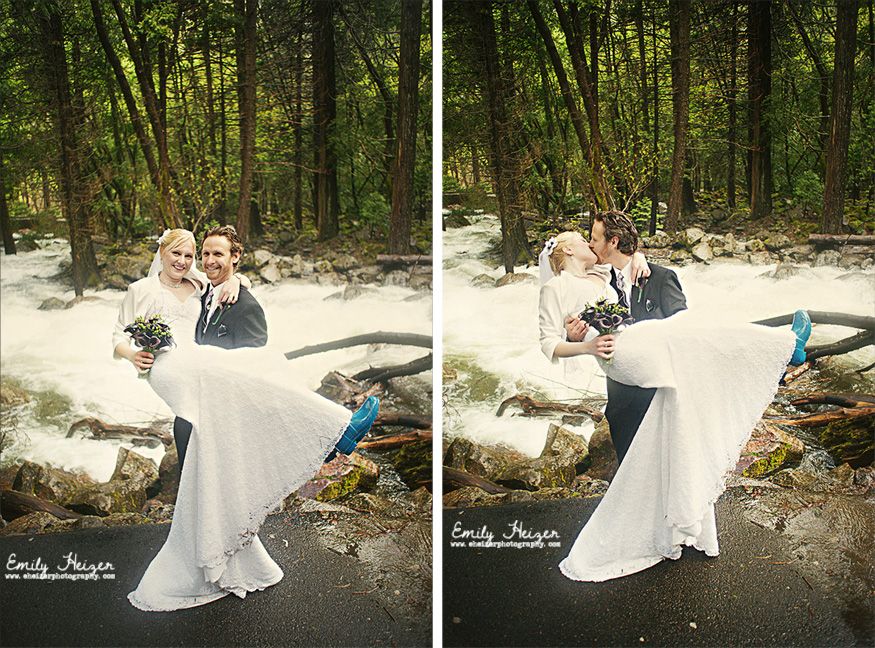 I'm also glad that we did a lot of DIY stuff. It saved a lot of money, it was fun, and it made everything much more personal and memorable. We also got a lot of stuff from Etsy because we would rather support artists than order something mass-produced. I picked out our flowers and bought them from a flower market in San Francisco and my husband's sisters arranged them.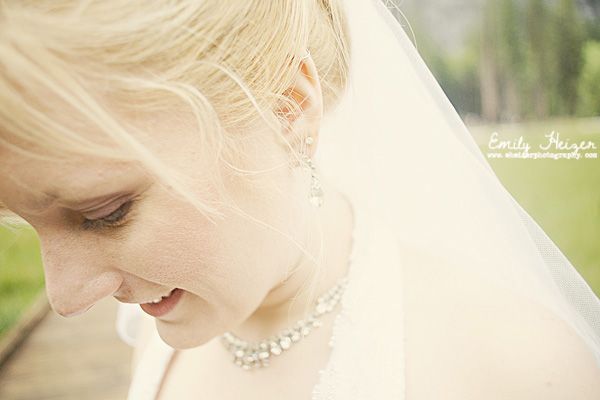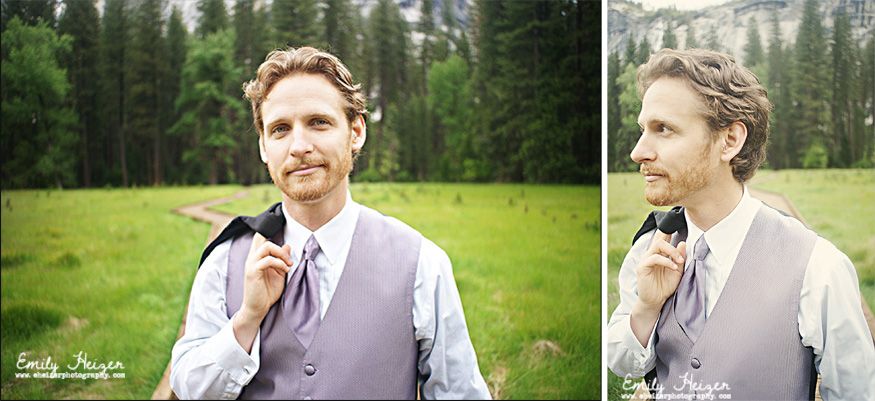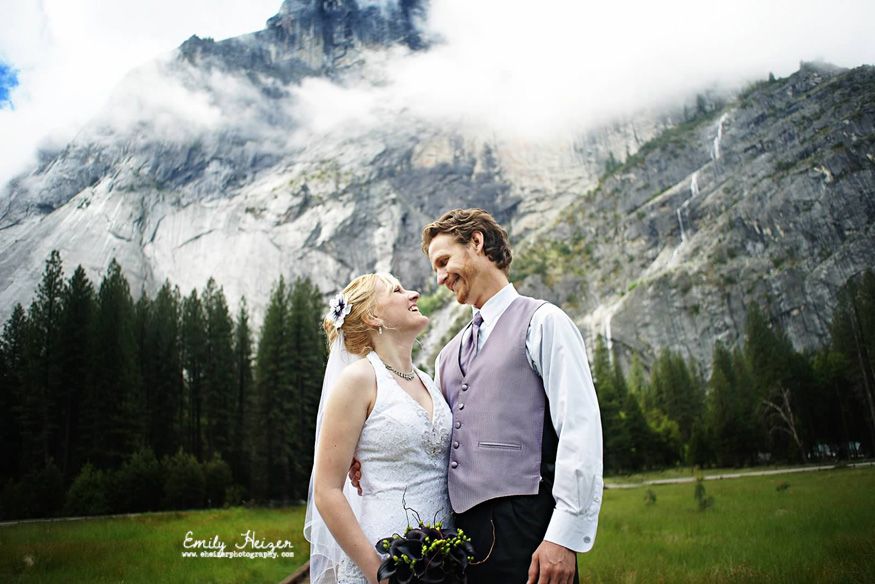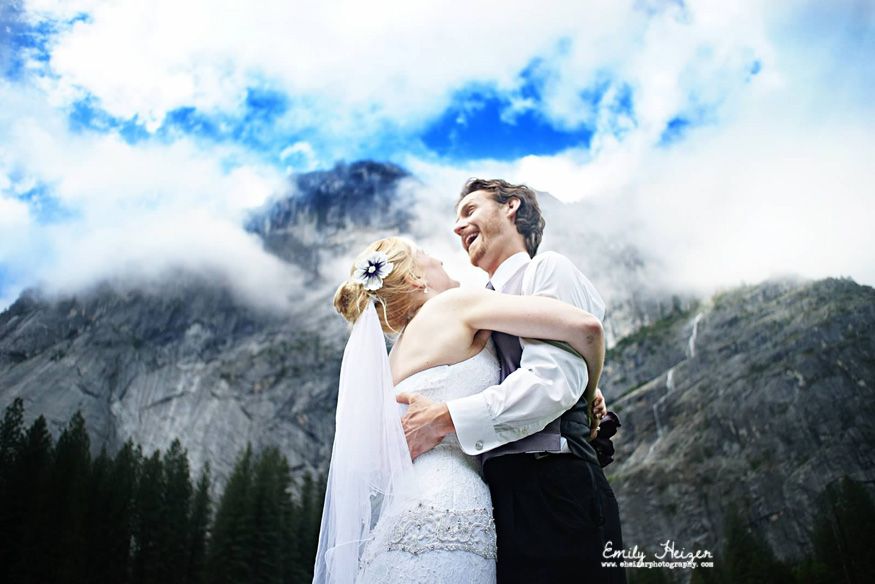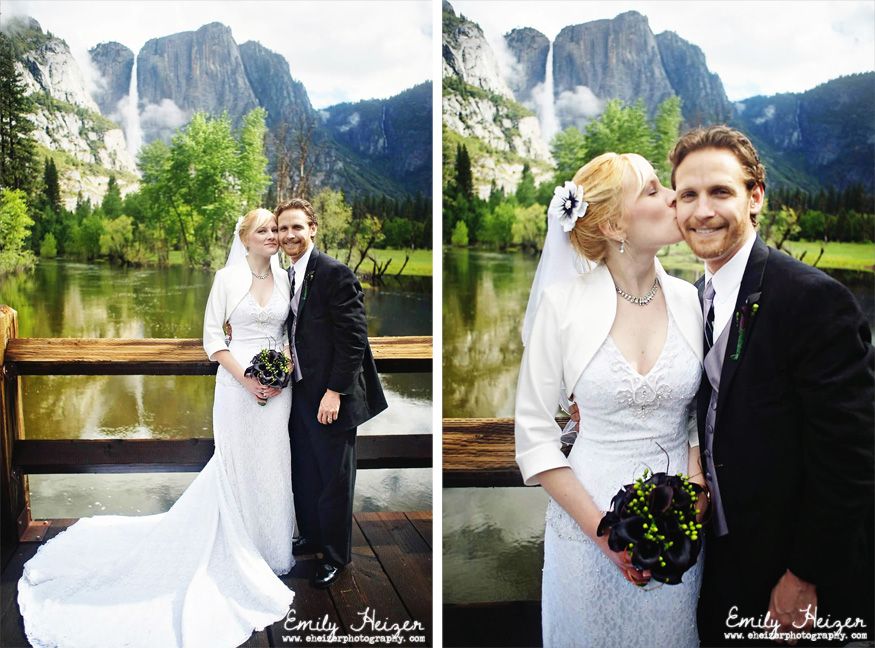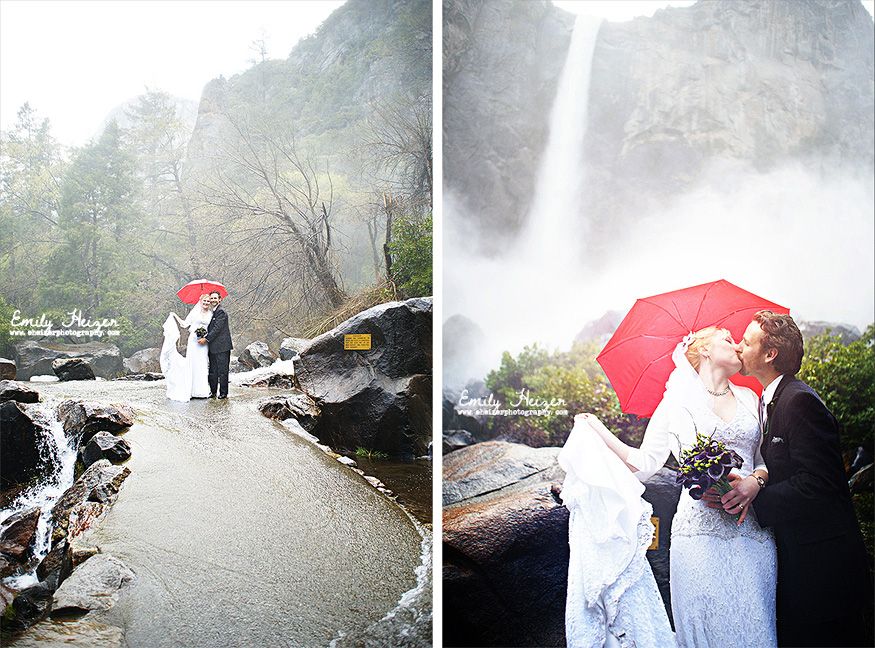 Notice the trail is TOTALLY flooded! They are standing in a waterfall! And I was totally kneeling in it!!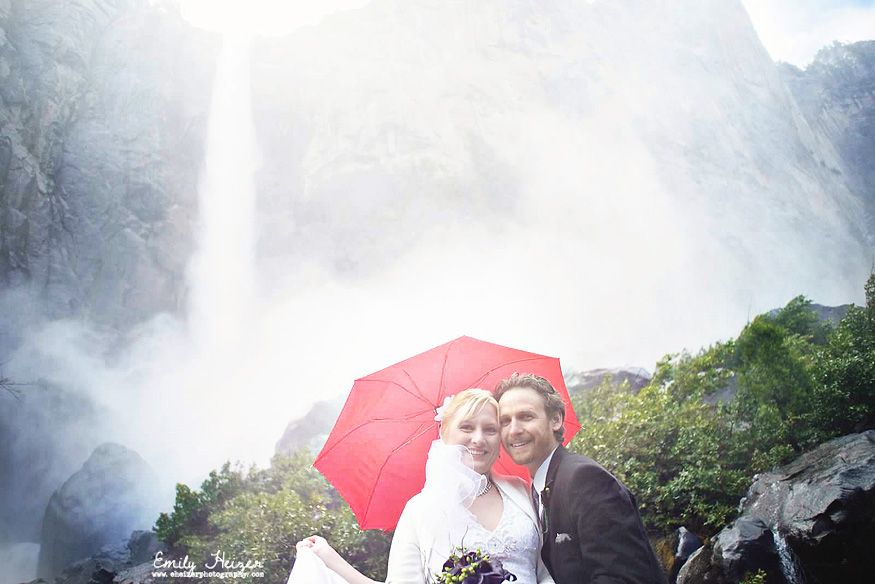 No wedding will turn out perfect, there will be a lot of glitches that you will laugh about later and make for great stories. If you have an outdoor wedding, prepare yourself and have a backup plan because everything that can go wrong just may happen. Also, make sure you get a good cake! Our cake was amazing and I will always remember that. People who said they hated wedding cake loved it. Find someone who's planned a wedding to help you, because it is so hard when you have no idea what to think about or how to do anything. I think that's why wedding planning takes 8 months. Spend money on the photographer, and look through their entire portfolio, because the most important memories you will have are captured in your wedding photos. We love showing people our pictures because we are so proud of them, and every time we do we say how happy and lucky we were to find someone special. Picking a photographer was a little like picking a dress, if you don't love it, don't buy it. Lastly, don't be afraid to cry, and be assertive to get what you want or need from people. Other people don't understand what you are going through unless they've done it themselves. Get everything in writing, down to what your cake decorations are going to be (ours were "forgotten"). Planning and executing a wedding is one of the most stressful and rewarding things you will ever do. Make it your own and have fun! Cherish the moments you will spend surrounded by people who love you. It can't get any better than that!